A Herstory of the #BlackLivesMatter Movement
A Herstory of the #BlackLivesMatter Movement from The Feminist Wire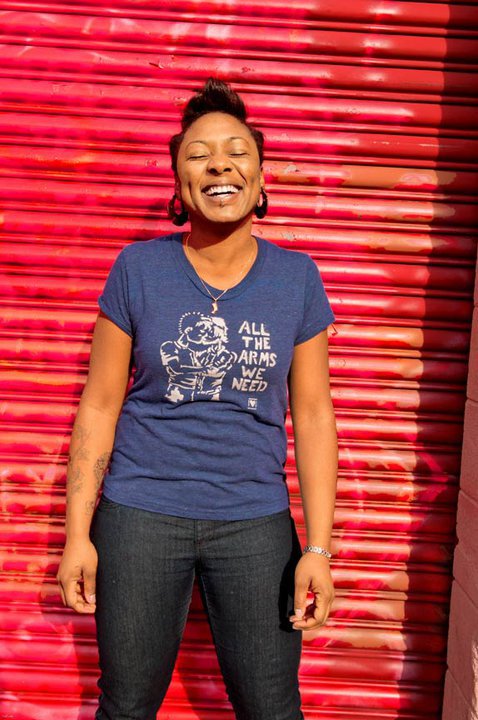 by Alicia Garza, cofounder of the #BlackLivesMatter movement
I created #BlackLivesMatter with Patrisse Cullors and Opal Tometi, two of my sisters, as a call to action for Black people after 17-year-old Trayvon Martin was post-humously placed on trial for his own murder and the killer, George Zimmerman, was not held accountable for the crime he committed. It was a response to the anti-Black racism that permeates our society and also, unfortunately, our movements.
Black Lives Matter is an ideological and political intervention in a world where Black lives are systematically and intentionally targeted for demise. It is an affirmation of Black folks' contributions to this society, our humanity, and our resilience in the face of deadly oppression.
We were humbled when cultural workers, artists, designers and techies offered their labor and love to expand #BlackLivesMatter beyond a social media hashtag. Opal, Patrisse, and I created the infrastructure f
or this movement project—moving the hashtag from social media to the streets. Our team grew through a very successful Black Lives Matter ride, led and designed by Patrisse Cullors and Darnell L. Moore, organized to support the movement that is growing in St. Louis, MO, after 18-year old Mike Brown was killed at the hands of Ferguson Police Officer Darren Wilson. We've hosted national conference calls focused on issues of critical importance to Black people working hard for the liberation of our people. We've connected people across the country working to end the various forms of injustice impacting our people. We've created space for the celebration and humanization of Black lives.
See the rest of the article here.
Guiding Classroom Conversations about Race and Police Violence
Renée Watson's "Teach Mike Brown, but Don't Stop There"
Renée Watson ...
This time last summer, I researched articles and collected poems about police brutality, racial profiling, and the murders of black men in the United States. The George Zimmerman verdict was fresh on my mind and I wanted to talk about it with my students once school was back in session. I revised a lesson I had taught six years prior on the murder of Sean Bell that asked young people to turn their pain into poetry (Rethinking Schools: Sean Bell). And now, here I am again, swapping out the articles I used last year on Trayvon Martin with articles about Mike Brown. I have accepted that I may have to teach this lesson every school year.
I am moved by the Twitter handle, #FergusonSyllabus. It gives me hope to know that educators are willing to have difficult conversations with their students, that poetry and essays will be written to honor the lives of those we've lost to senseless murder, that healthy discussions will happen across the country between young people. But I hope we go past one lesson, one unit. I urge us to think about how our classrooms and curricula challenge or support stereotypes, how they liberate or stifle our young people. It is not enough to teach one "social justice" unit. My hope is that we move from isolated lessons and units and commit to creating classrooms that intentionally and consistently provide opportunities for learners to not just know about injustice but fight against it and begin creating a just world.
As educators, we are not just teaching science, math, or English. We teach culture and norms. Our students notice the jokes we laugh at and the ones we don't. They pick up on our low expectations when we overly praise them as if we are surprised they could actually complete the assignment we gave them. They are learning whose stories matter by the books we assign. They see who we kick out of class and who we give second and third chances to.
Chimamandah Ngozi Adichie's The Danger of a Single Story
Something More is Required
From MIchelle Alexander, author of The New Jim Crow: Mass Incarceration in the Age of Colorblindness
July 9, 2016
I have struggled to find words to express what I thought and felt as I watched the videos of Alton Sterling and Philando Castile being killed by the police. Last night, I wanted to say something that hasn't been said a hundred times beforestile bei. It finally dawned on me that there is nothing to say that hasn't been said before. As I was preparing to write about the oldness of all of this, and share some wisdom passed down from struggles of earlier eras, I heard on the news that 11 officers had been shot in Dallas, several killed from sniper fire. My fingers froze on the keys. I could not bring myself to recycle old truths. Something more is required. But what?
I think we all know, deep down, that something more is required of us now. This truth is difficult to face because it's inconvenient and deeply unsettling. And yet silence isn't an option. On any given day, there's always something I'd rather be doing than facing the ugly, racist underbelly of America. I know that I am not alone. But I also know that the families of the slain officers, and the families of all those who have been killed by the police, would rather not be attending funerals. And I'm sure that many who refused to ride segregated buses in Montgomery after Rosa Parks stood her ground wished they could've taken the bus, rather than walk miles in protest, day after day, for a whole year. But they knew they had to walk. If change was ever going to come, they were going to have to walk. And so do we.
What it means to walk today will be different for different people and different groups and in different places. I am asking myself tonight what I need to do in the months and years to come to walk my walk with greater courage. It's a question that requires some time and reflection. I hope it's a question we are all asking ourselves.
In recent years, I have come to believe that truly transformative change depends more on thoughtful creation of new ways of being than reflexive reactions to the old. What is happening now is very, very old. We have some habits of responding to this familiar pain and trauma that are not serving us well. In many respects it's amazing that we endure at all. I am inspired again and again by so much of the beautiful, brilliant and daring activism that is unfolding all over the country. Yet I also know that more is required than purely reactive protest and politics. A profound shift in our collective consciousness must occur, a shift that makes possible a new America.
I know many people believe that our criminal justice system can be "fixed" by smart people and smart policies. President Obama seems to think this way. He suggested yesterday that police-community relations can be improved meaningfully by a task force he created last year. Yes, a task force. I used to think like that. I don't anymore. I no longer believe that we can "fix" the police, as though the police are anything other than a mirror reflecting back to us the true nature of our democracy. We cannot "fix" the police without a revolution of values and radical change to the basic structure of our society. Of course important policy changes can and should be made to improve police practices. But if we're serious about having peace officers — rather than a domestic military at war with its own people — we're going to have to get honest with ourselves about who our democracy actually serves and protects.
Consider this: Philando Castile had been stopped 31 times and charged with more than 60 minor violations — resulting in thousands of dollars in fines — before his last, fatal encounter with the police.
Alton Sterling was arrested because he was hustling, selling CDs to get by. He was unable to work in the legal economy due to his felony record. His act of survival was treated by the police as a major crime, apparently punishable by death.
How many people on Wall Street have been arrested for their crimes large and small — crimes of greed and fraud that nearly bankrupted the global economy and destroyed the futures of millions of families? How many politicians have been prosecuted for taking millions of dollars from private prisons, prison guard unions, pharmaceutical companies, oil companies, tobacco companies, the NRA and Wall Street banks and doing their bidding for them — killing us softly? Oh, that's right, taking millions from those folks isn't even a crime. Democrats and Republicans do it every day. Our entire political system is financed by wealthy private interests buying politicians and making sure the rules are written in their favor. But selling CDs or loose cigarettes? In America, that's treated as a serious crime, especially if you're black. For that act of survival, you can be wrestled to the ground and choked to death or shot at point blank range. Our entire system of government is designed to protect and serve the interests of the most powerful, while punishing, controlling and exploiting the least advantaged.
This is not hyperbole. And this is not new. What is new is that we're now watching all of this on YouTube and Facebook, streaming live, as imagined super-predators are brought to heel. Fifty years ago, our country was forced to look at itself in the mirror when television stations broadcast Bloody Sunday, the day state troopers and a sheriff's posse brutally attacked civil rights activists marching for voting rights in Selma. Those horrifying images, among others, helped to turn public opinion in support of the Civil Rights Movement. Perhaps the images we've seen in recent days will make some difference. It's worth remembering, though, that none of the horrifying images from the Jim Crow era would've changed anything if a highly strategic, courageous movement had not existed that was determined to challenge a deeply entrenched system of racial and social control.
This nation was founded on the idea that some lives don't matter. Freedom and justice for some, not all. That's the foundation. Yes, progress has been made in some respects, but it hasn't come easy. There's an unfinished revolution waiting to be won.
Retrieved from https://medium.com/embrace-race/something-more-is-required-of-us-now-what-58e8ec2885b8#---612-875.vfyg6cb3e
For more from MIchelle Alexander, check out a 2014 instructional unit based on her book The New Jim Crow at Teaching Tolerance.